In my determination to have a "Green Kitchen" I found the most beautiful green marble tile, but what color would the walls be? I would have to find a shade of green my RG Colorblind hubby could register nicely, that is pale enough to focus the attention on the tile.
After being disappointed by too many green paints and by the mixing skills of Home Depot, I am retreating to a color I know works with the lighting of the house -- Benjamin Moore's Caribbean Mist. The answer to my color problem was staring me right in the face as I painted our computer room Caribbean Mist. It is in our livingroom/dining room that looks onto the kitchen. Having a pale blue, medium/pale green, and white is a scheme that seems to work in rooms including kitchens.
This feels like a breakthrough. So we can do pale blue walls, white trim and ceiling, and green marble tile. I can still do those Pottery Barn white curtains. I may have to consider sturdy white wood cafe shelving (shown below) instead of the stainless steel (either one would work). Not sure if we have to paint the cabinets yet, but I am open to it. We could paint the cabinets white or a matching green to the tile.
Let's not forget the Metal Ocean countertop. Metal Ocean has both blue and green hues that could play off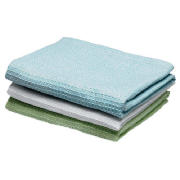 both the green tile and the pale blue walls.
So tomorrow I am going to make a trek to Benjamin Moore and get some Caribbean Mist, since I need some to touch up the walls in the livingroom, dining room, and computer room.
The benefit of going with the Caribbean Mist is that I know it is a color I can live with. It is also a color that can go with stainless steel as well as white.